Welcome to
St. Barnabas Hospital College Of Nursing
St. Barnabas Hospital College of Nursing (SBHCON) started its journey by establishing in the year 2016 with the aim of generating qualified nurses in order to meet the health needs of the individuals, family and community.
Rt Revd B. B. Baskey Bishop of Chotanagpur & Chairman Governing Body, SBHCON
Dear Students Greetings in the precious name of our Saviour. As a visitor to St. Barnabas Hospital College of Nursing (SBHCON) website, I warmly welcome you to the new academic year in the SBHCON, Ranchi. Those who have just completed Higher Secondary/Pre-University will start looking for career that will give them bright future. However because of lack of guidance & increasing competitions for choosing a right career has become challenging for most of the students. Nursing has emerged as a promising career. SBHCON faculty are dedicated to your success. The college campus provides you with access to resources that is needed to build your career. Members of the Governing Body, the faculty and staff are working together to maintain and enhance a collegiate environment for you. SBHCON's mission is to prepare students to become professional nurses and leaders who will engage themselves in lifelong learning in order to make a positive difference in the health of individuals and community. As you read about College of Nursing, you are taking an important step toward your future. I invite you to explore our website to see our facilities, how our faculty, staff and trainees are participating in the teaching learning activities. The faculty and staff are here for you. I sincerely welcome and invite you to join SBHCON, Ranchi. May God bless you!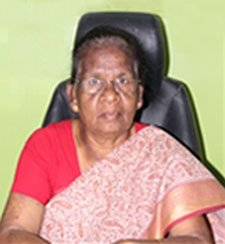 Miss Mamta Soren
Principal SBHCON
The management, faculty, and staff of the College of Nursing hope you will consider joining us if your goals are to become a nurse. The opportunities in nursing are limitless regardless of whether you choose to work in hospital setting or in community setting. The employment picture for the nursing field is ranked as one of the growing areas of need. You have the opportunity to make a real difference in the lives of others. Come join us and make a difference! The curriculum of nursing programs requires much hard work but it will be worth, you will leave with the knowledge, skills and abilities to respond to the healthcare needs of people in whatever setting you decide to practice. Everything you learn along the way, every milestone you achieve will prepare you for your future. Take advantage of B. Sc nursing course that we offer. You are joining the most trusted profession. You are the future of healthcare. I want to thank you for considering this college and assure you that you will have a meaningful experience if you enrol. Remember to stay committed to your studies and stay focused on being the very best that you can and will be. Miss Mamta Soren, Principal at SBHCON

Our Facilities
Our Facilities
Photogallery -
Activity & Events
Affiliation and Recognition
Affiliation and Recognition